50 cm handheld cannon (Confetti)
50 cm manual cannon with paper and / or metallic rectangular confetti to choose between different colours and whose size is 2 x 5 centimeters. This launcher is for autonomous use and, therefore, does not need additional systems.
Content

Handheld launcher 50 centimeters long loaded with confetti to choose between different colours, rectangular, tissue paper or metallic and 2 x 5 cm in size.

The difference between the metallic and the paper is that the first one has a more rapid but colorful fall while the second one will remain longer in the air.

Effect

To get the best effect it is recommended to use the "103MC" tubes in medium or large spaces where we have a minimum of 7 meters between the roof and the ground. This launched fires the confetti at an approximate height of about 6/7 meters.

It is recommended to orient the manual confetti cannon vertically so that its content rises more and takes longer to fall or, on the other hand, diagonally, so that it goes towards the public.

Functioning

This type of manual confetti launcher is triggered manually. It does not require any system to part to trigger the shot.

The manual cannon 50 cm. of confetti with reference "103MC" is composed of two different parts:

    - The upper part where the confetti is loaded.
    - The lower part with the compressed air bottle that will later release the confetti.

We remove the plastic cap or we break the protective cover of tissue paper that has so that the confetti does not spill in the transport.

We remove the safety band located between both bodies.

We will raise the arms to the maximum in the shot to use it in totally safe conditions.

We will take the upper part of the launcher with the left hand and, with the right, the lower one, in which is the small mechanism that, turning it firmly, will allow us to fire the confetti.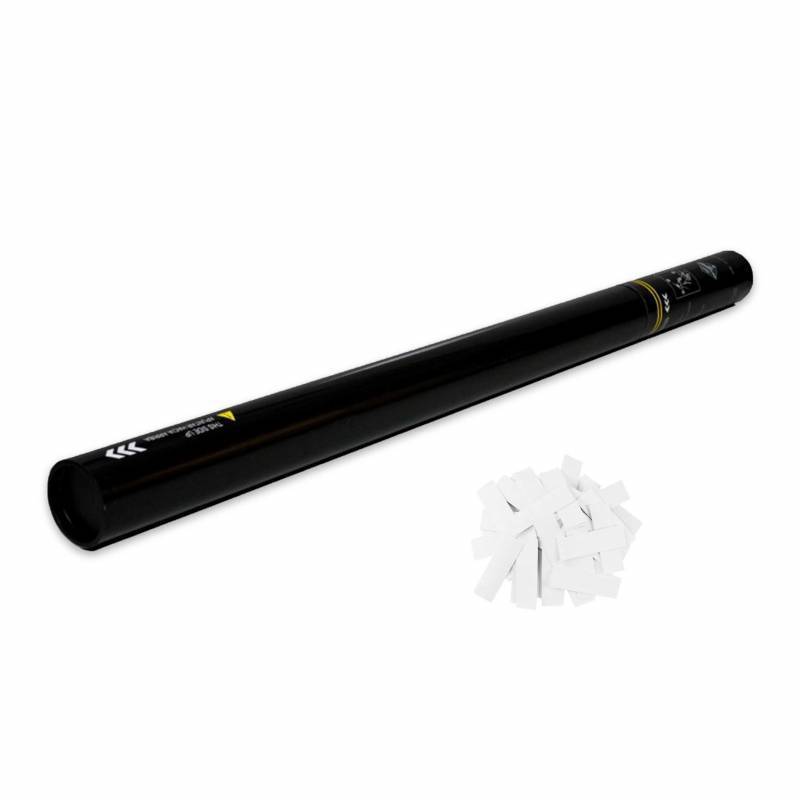 Data sheet
Certificado:

CE (Mandatory for sales and use).

Presión:

1.9 mpa - 19 bars

Peso producto:

0,41 kg.

Gas:

Compressed nitrogen.

Tipo de confeti:

Rectangular of 2 x 5 cm.

Material:

Flame-retardant and doesn't stain

Desechable:

Yes.

Color:

Different available.

Medidas producto:

50 cm long x 5 cm diameter.
Buen producto
Muy satisfactorio par lo que lo queríamos. Su color negro es muy útil para nuestros espectáculos.
Cañones de confeti
Todo muy bien. Los cañones han funcionado de maravilla. Treinta! Y no falló ninguno.
Perfecto
Trae bastante cantidad, y es perfecto para un perfecto efecto lluvia de confeti.
Confeti Plata
Una lluvia de confeti plateado muy chulo
Perfecto
Lo que esperaba. El confeti subió tal y como se aprecia en el vídeo. Envío rápido. Repetiré seguro!
Estupendo
Es exactamente igual a lo que se ve en el vídeo. Genial el envío. Totalmente recomendable.
Fàcil i espectacular!!
Molt fàcil d'utilitzar i un efecte espectacular!!!
Ideal
Entrega rápida y artículos de calidad, tal y como esperaba
Todo perfecto
Entrega rápida y artículos de calidad, tal y como esperaba