50 cm. handheld cannon (Confetti)
50 cm. hanheld confetti cannon
The included confetti can be paper or metalized, with a size of 2 centimeters wide and 5 long as well as being able to choose from a wide range of colours. It is operated manually by turning the bottom of the tube.
Content

50 cm hanheld confetti cannon. The pre-filled confetti is available both on paper (with a slower drop so it stays more in the air) and metallic (it falls faster but the visual effect is beautiful) and in different colours.

Effect

The hanheld confetti cannons can reach an approximate height of 7/8 meters, so it is recommended that there be a distance of at least 4 meters between floor and ceiling, so the space in which it is used must be medium or large. The shot of the launcher can be performed diagonally, to involve the entire public, as vertical, to generate a shower of confetti that stays longer flying.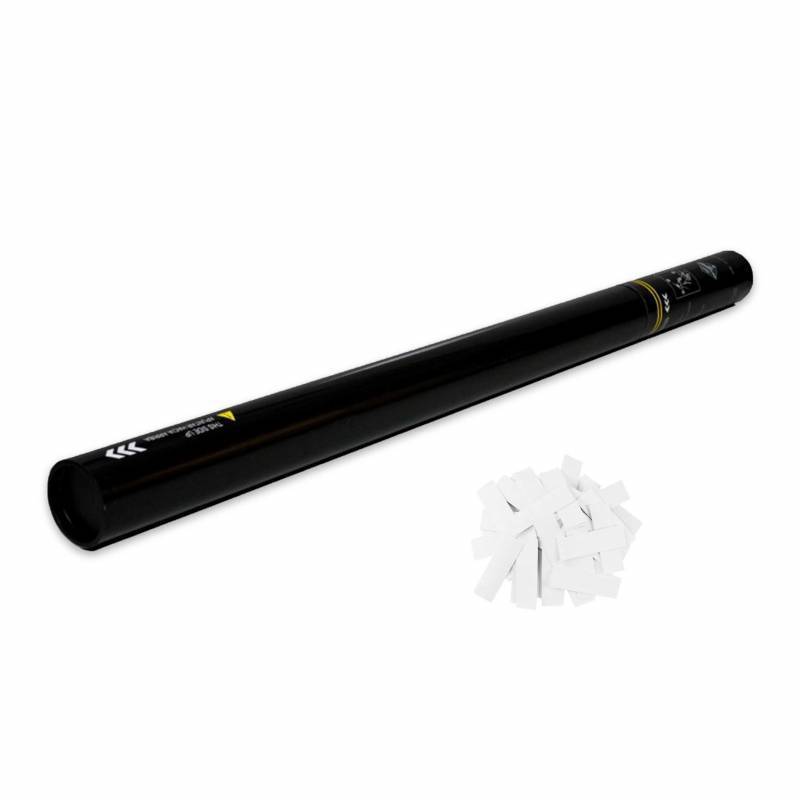 Data sheet
Pressure

1.9 Mpa - 19 bars

Gas

Compressed nitrogen

Confetti type

Rectangular

Material

Flameproof

Disposable

Yes

Product size

50 cm long x 5 cm diameter
Perfecto
2022-12-16
Florencio monterreal
Hace años q uso vuestro género y es genial
Buen producto
Muy satisfactorio par lo que lo queríamos. Su color negro es muy útil para nuestros espectáculos.
Cañones de confeti
Todo muy bien. Los cañones han funcionado de maravilla. Treinta! Y no falló ninguno.
Genial
Buen disparo y los confetis geniales
Perfecto
Trae bastante cantidad, y es perfecto para un perfecto efecto lluvia de confeti.
Confeti Plata
Una lluvia de confeti plateado muy chulo
Perfecto
Lo que esperaba. El confeti subió tal y como se aprecia en el vídeo. Envío rápido. Repetiré seguro!
Estupendo
Es exactamente igual a lo que se ve en el vídeo. Genial el envío. Totalmente recomendable.
Fàcil i espectacular!!
Molt fàcil d'utilitzar i un efecte espectacular!!!
Ideal
Entrega rápida y artículos de calidad, tal y como esperaba
Todo perfecto
Entrega rápida y artículos de calidad, tal y como esperaba