50 cm handheld cannon (empty)
50 cm empty handheld cannon. Handheld cannon with no charge in its interior, made to be filled up with confetti or streamers. Manual functioning of the cannon.
50 cm empty handheld cannon. The "103M" handheld cannon is made for people in need of an empty launcher to fill with the desired material. It is made to be filled with confetti and/or streamers.
To acquire the best effect in large or medium spaces, with a minimum height of 7 meters between the ceiling and floor, the use of "103M" cannons is recommended. This cannon fires confetti at an approximate height of 6/7 meters.
It is recommended to fire the confetti vertically with the "103M" cannon allowing it to rise higher, taking more time to fall. The cannon can also be oriented diagonally to direct the confetti towards the public. In case of charging the cannon with streamers, it is recommended to orient it diagonally allowing the streamers to unwind fully. 
This handheld confetti cannon fires manually. It does not require any separate system to fire it. 
This 50 cm handheld confetti cannon with reference "103M" is composed by two separate parts:
The superior part where the confetti and/or streamers will be charged
The inferior part with the compressed air tank which will fire the confetti
Remove the plastic cap or break the tissue paper protection used so the confetti does not fall throughout the transport.
Remove the security tape located between both parts. 
Raise your arms as high as possible during firing to ensure using it in the most secure conditions. 
The superior part of the "103M" cannon will be held with our left hand while our right hand will hold the inferior part which will allow us to detonate the charge.
The inferior left part has a small piece that allows the activation of the mechanism. Firmly turn this piece with your right hand and the confetti will be launched.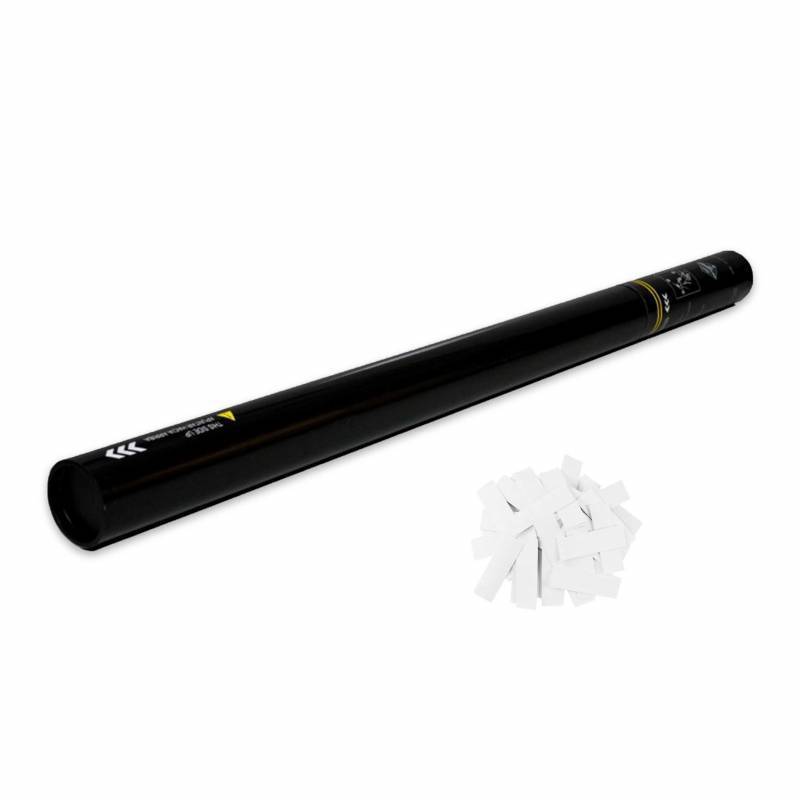 Data sheet
Otros:

CE (Mandatory for sales and use).

Presión:

1.9 mpa - 19 bars

Peso producto:

0,29 kg.

Gas:

Compressed nitrogen.

Desechable:

Yes

Medidas producto:

50 cm long x 5 cm diameter.
Servicio y producto perfectos
Lo rellenamos con flores secas para una boda, funcionó perfectamente y quedó muy bonito