Manual Round Confetti Cannon 50 cm
The 50 cm round confetti manual cannon has the ideal size and load for medium environments where we want a versatile effect that adapts to different types of situations. Make your next event impressive with this launcher.
Effect:

The manual confetti tubes are the ideal alternative to create a great result by means of a simple, comfortable and practical system. Generally, those who come with round confetti can be seen in all kinds of events such as parties, theaters, weddings or any other situations in which a prominent, personalized visual impact is required that accompanies the theme of the event.

Characteristics:

This manual 50 cm round confetti cannon is the medium size model, so its firing power is about 6 or 7 meters, coming preloaded with 120 grams of consumable, the ideal amount to create an excellent visual effect without giving up launch distance.

The round confetti is available in sizes 4.1 cm (for paper and brightness) and 5.5 cm (only brightness) and in the colours white, silver, gold and multicolour, depending on the design chosen.

Recommendations for use:

Regarding the use of manual round confetti launchers, the ideal is that, at the time of the launch, the arms are raised as much as possible and that the tube is not supported on any part of the body (always hold it and leave it aside) since the recoil could cause some damage. Likewise, it contains gas and this means that we should avoid making holes in it or leave it near sources of heat (or exposed to the sun). Before shooting, we will remove the corresponding plastic cap and make sure not to point any person with it. To finish, you just have to make a soft turn of the bottom.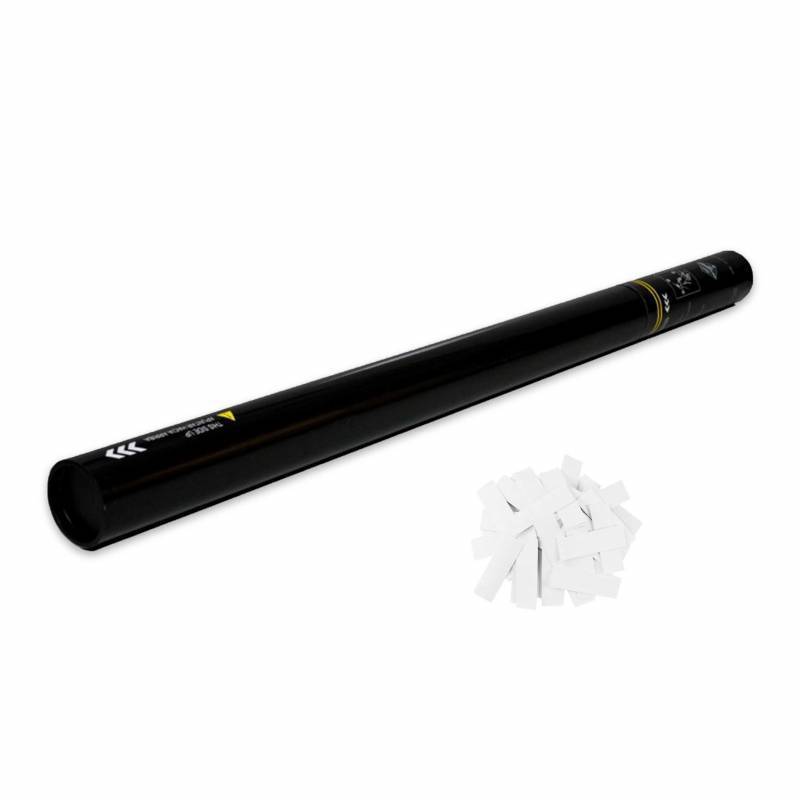 Data sheet
Certificado:

CE

Forma:

Round

Presión:

1.9 mpa - 19 bars

Gas:

Compressed nitrogen

Material:

Tissue paper o brightness

Desechable:

Yes

Color:

White, gold, silver, multicolour, multicolour brightness

Medidas producto:

50 cm launcher
Muy bien
Gran relación calidad / precio. Los volveria a comprar.