Manual Star Confetti Cannon 80 cm
The 80 cm manual cannon loaded with star confetti will allow us to create a wonderful unique visual effect, which can be used at parties, theatrical performances and other events in which we want to fill the atmosphere with them.
Characteristics:

Manual cannon 80 centimeters long loaded with star confetti, which is available in two different sizes to choose from (4.1 cm or 5.5 cm) and in different colours (multicolour, white, silver, bright red ...). This launcher has nitrogen compressed in its base, this means that it is for single use and that, thanks to the rotation of the same, we can operate it, reaching a power of about 8-9 meters away.

Also, the tube will come equipped with a plastic lid on the top to prevent the spilling of the confetti stars, a factor to consider when we use it. The consumable is flame-retardant, does not fade and you can choose between paper or brightness.

Effect:

The confetti of stars is a very specific model that will allow us to create a very attractive visual impact in different types of events such as parties, birthdays, theaters, magic shows and other events in which we need the environment to be filled with them.

Thanks to the available designs we can choose the one that best suits the result we are looking for. Likewise, it should be noted that the paper stars weigh less and fly more while the metallic will fall faster but is more showy.

Recommendations for use:

As it has been said previously, we will only need to turn the lower part in order to make the firing of the star confetti tube. However, before we must take into account the following: do not make holes in the barrel or expose it to extreme heat, never aim at any person, do not support in ourselves the launcher before shooting, try to lift as much as possible the arms, remove the plastic lid and make sure nothing obstructs the exit of the confetti.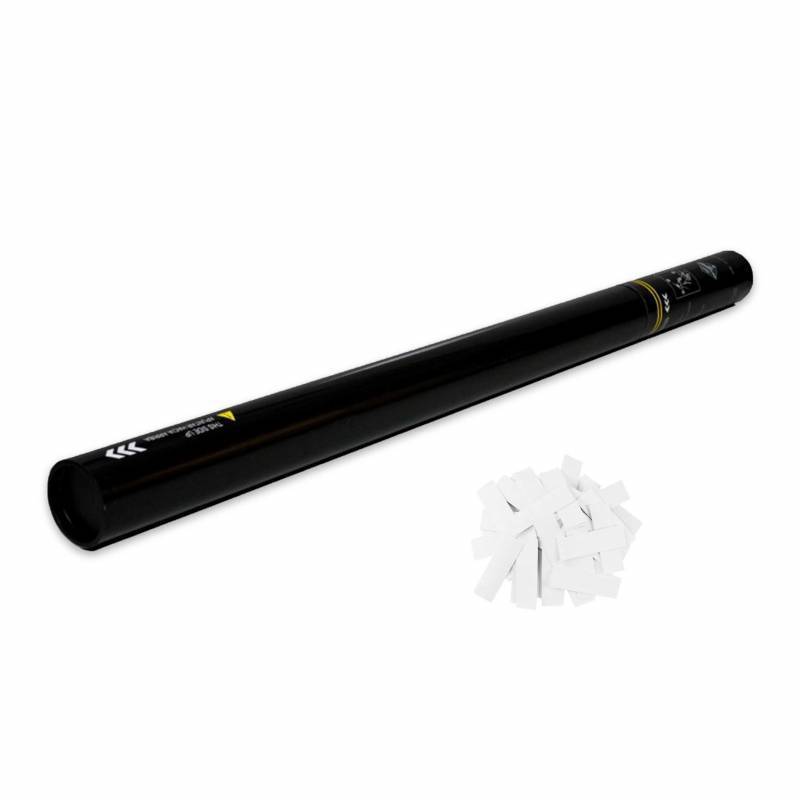 Data sheet
Certificado:

CE

Forma:

Stars

Presión:

2.0 mpa - 20 bars

Gas:

Compressed nitrogen

Material:

Tissue paper o brightness

Desechable:

Yes

Color:

Multicolour, multicolour brightness, red brightness, white, gold, silver

Medidas producto:

80 cm cannon