Manual Butterflies Confetti Cannon 50 cm
The manual tube of 50 centimeters of butterfly confetti is the ideal complement for the next occasion in which you want to have a different visual effect and that stands out in the environment. You have at your disposal several colour options: choose the one that best suits your event!
Characteristics:

The manual cannons of confetti of butterflies have all the specifications to be able to make a visual impact that serves in multitude of occasions. To start, the consumable is flame-retardant and can be chosen in multicolour, silver, gold or white, as well as being available in two sizes: 4.1 cm and 5.5 cm (depending on the model) and in paper or brightness depending on the color . This last characteristic will allow us to play more with the result since, if we choose those of the first material, the flight will be more persistent but, for the second one, we will obtain a more eye-catching effect.

The manual 50-centimeter butterfly confetti launcher is for autonomous use and has 120 grams of charge, which will require a distance of about 6/7 meters for its power.

Recommendations for use:

Before operating the confetti tube, we must take into account the following considerations: do not leave the cannon near heat sources or make holes in it. Make sure nothing obstructs the exit of the launcher and remove the lid that is on top. Lift the arms as much as possible and do not support it at the moment of shooting to avoid possible recoil.

Once we are ready, it will only be necessary to make a soft turn of the lower part, orienting it either vertically or diagonally for a better result (in no case horizontal).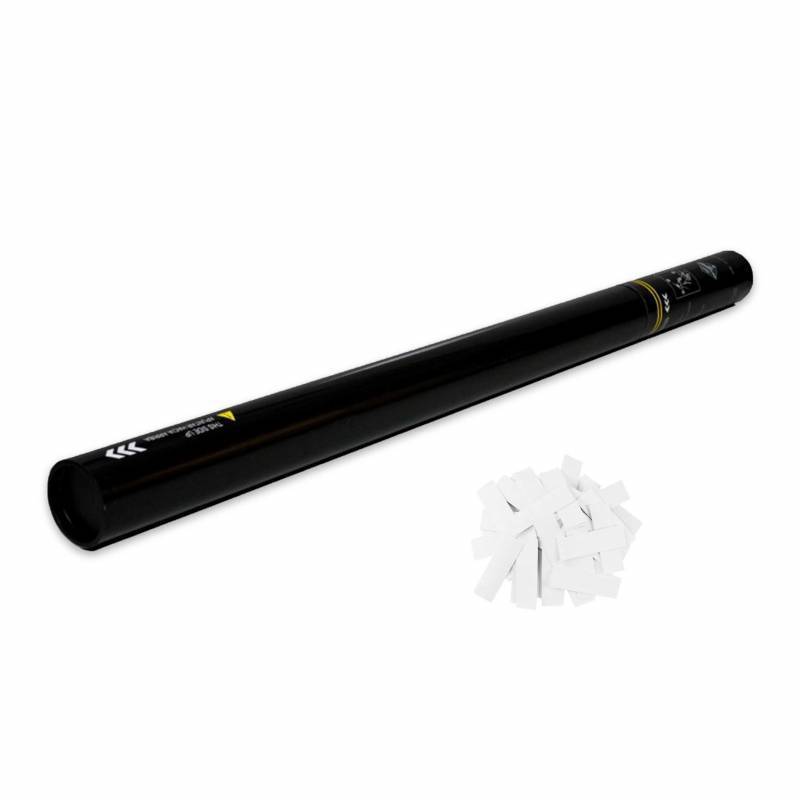 Data sheet
Certificado:

CE

Forma:

Butterflies

Presión:

1.9 mpa - 19 bars

Gas:

Compressed nitrogen

Material:

Brightness or tissue paper

Desechable:

Yes

Color:

Gold, silver, multicolour, white

Medidas producto:

50 cm cannon