Manual Cannon 30 cm (confetti + streamers)
Manual cannon of 30 cm of confetti and streamers: it combines the two effects in one thanks to this mixture that will be loaded and prepared inside the tube. Simply choose the colours you prefer (personal preferences, theme of the event ...) and only worry about filling the environment with these consumables.
Effect
The manual 30 cm long streamer and confetti cannon is the ideal complement for all types of events. You can have a double visual effect customizable in terms of the range of colours, which allows a great adaptability to different situations, such as entertainment, parties, shows... You can generate a unique atmosphere thanks to this system.
The tube comes preloaded with both consumables, easily eligible at the top of this page, which will be fired at once when you action it. In addition, you can not only use this device, but you can combine them with others of your choice: everything will depend on the result you want to achieve and the event that is being held.
Therefore, this is an accessory that will allow you a unique, colourful and versatile result that will undoubtedly impress all the attendees.
Content
In this product file you'll find the cannon of streamers and confetti 30 centimeters long, the first one being 5 meters long x 0.85 cm wide and the second one 2 x 5 cm (rectangular model). Different combinations of colours to choose.
Use
The manual confetti and streamers launcher of 30 centimeters is the smallest model, therefore it have less power than other ones. Specifically, it can reach a distance of 3-4 meters, 7 approximately with the streamers unrolled. In order to activate it, you will have to turn the lower part with a soft movement and, in this way, the consumables will be fired. As precautionary measures, we will never pierce the tube, we will not expose it to heat sources and we will not under any circumstances point anyone to it.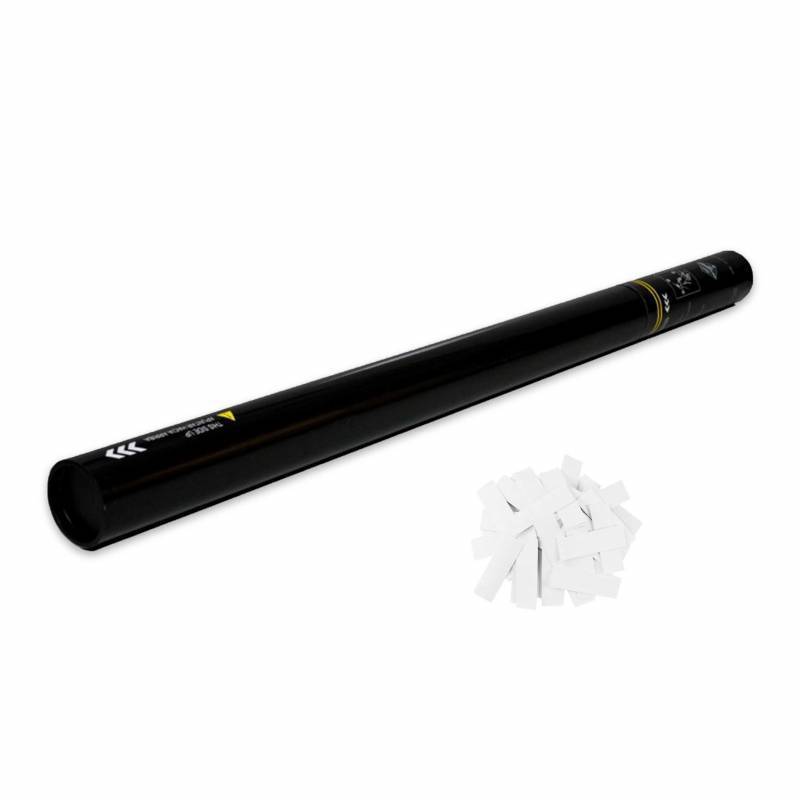 Data sheet
Certificado:

CE

Presión:

1.8 mpa - 18 bars

Tipo de serpentinas:

Streamers 5 m long

Gas:

Compressed nitrogen

Tipo de confeti:

Rectangular 2 x 5 cm

Material:

Paper

Desechable:

Yes

Color:

Combine different colours!

Medidas producto:

30 cm
Genial
Para lo pequeño que es el disparo es potente