Manual Cannon 30 cm confetti + streamers (brightness)
A maximum result in a minimum container: the 30 cm manual cannon with mixture of confetti and streamers (brightness) is the most suitable complement for your next party. With it, you can launch a combination of both consumables at the same time.
Effect:

The 30 cm manual launcher with metallized confetti and streamers is the perfect accessory for any party where we want a very colorful effect suitable for small environments. Approximately, 3-4 meters can be reached with the first consumable and up to 7 with the second (because they must be unrolled and have a length of 5 meters).

Therefore, since the use of the tube is manual, it is perfect for events in which we want a combined shot in an open space but delimited or closed but with enough height in the ceiling so that the load does not bounce.

Content:

Here you will find individual units of 30 cm manual cannons with confetti and streamers (brightness), which are ready for firing and can be chosen in 9 different combinations.

Functioning:

The use of the tube is manual, which means that it does not need any electrical system and that, to activate it, you only have to make a turn of the lower part of it. At no time will you aim at anyone, you should not expose yourself to a strong heat (or the sun) or pierce it, you have to remove the plastic cap from the top before launching and the orientation of the confetti cannon and streamers it must be diagonal.

As additional measures, it is recommended to raise the arms as much as possible and not support the tube in our own body (to avoid possible damage by recoil).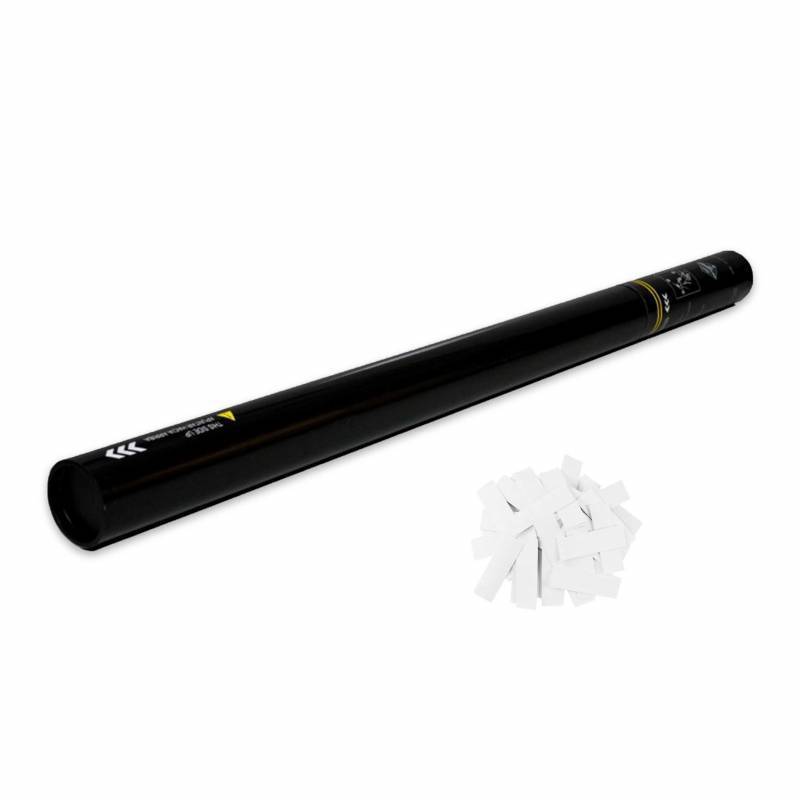 Data sheet
Certificado:

CE

Presión:

1.8 mpa - 18 bars

Tipo de serpentinas:

Streamers 5 m

Gas:

Compressed nitrogen

Tipo de confeti:

Rectangular 2 x 5 cm

Material:

Paper

Desechable:

Yes

Color:

Choose between 9 different combinations!

Medidas producto:

30 centimeters