80 cm handheld cannon (Tissue paper streamers)
Handheld cannon of 80 centimeters with paper streamers, 10 meters long by 1.5 centimeters wide and with the possibility of choosing their colour. For their materials they weigh less and take longer to fall.
Content

Handheld launcher 80 cm. loaded with 1.5 cm paper streamers. wide by 10 meters long in different colours to choose.

The tissue paper streamers have a matte paper type finish and thanks to this the streamers fall is very slow, especially when compared to the metallized material.

Effect

To be able to make the shot, it is advisable to orient it horizontally or vertically, so that the "spider web" effect generated is much more attractive. On the other hand, we must take into account that, when measuring the 10 meter streamers and the launcher have a shooting power of 4 meters, we will use this tube in large spaces.

Functioning

This cannon is manual and, therefore, does not need any additional system for its use: it is totally autonomous.

The 80 cm manual tube. Streamers paper with reference "101MS" is composed of two different parts:

    - The lower part with the compressed air bottle that will later launch the streamers.
    - The upper part where the streamers are loaded.

To be able to use this cannon, it must be taken into account that we will not pierce it or expose it to heat sources since it contains gas inside it. When it comes to manipulating it, we will not focus on one's face or another person.

As for its use, first remove the plastic or paper lid that is on the top, which serves so that the content does not spill in the transport. Then, we will put one hand on the bottom and another on the top and, turning the mechanism firmly, the launch will be made.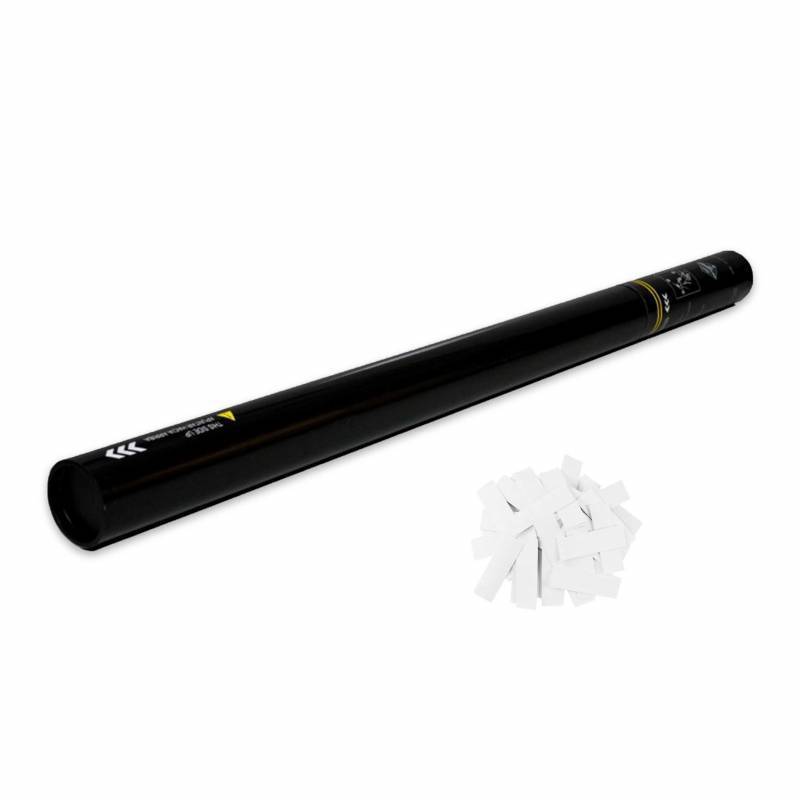 Data sheet
Certificado:

CE (Mandatory for sales and use).

Peso producto:

0,5 kg.

Tipo de serpentinas:

10 meters long x 1,5cm wide.

Presión:

2.0 mpa - 20 bars

Gas:

Compressed nitrogen.

Material:

Flame-retardant and colorfast.

Desechable:

Yes.

Color:

Different available

Medidas producto:

80 cm long x 5 cm diameter.
Cañones de confeti
Todo muy bien. Los cañones han funcionado de maravilla. Treinta! Y no falló ninguno.
Cañon serpentina multicolor!
Aun no lo he estrenado! es para mi boda a finales de mes! vi el video y me encantó! así que espero que sea genial!
Cañones con serpentinas
Perfectas para lo que necesitábamos!!