20 Manual Cannons 30 cm (brightness streamers)
Pack of 20 manual cannons of 30 centimeters with brightness streamers. This launcher is autonomous and the streamers are available in 3 different metallized colours: multicolour, silver and gold. In addition, they incorporate a special discount applied by amount.
Content

Pack of 20 cannons of 30 centimeters long loaded with bright streamers available in different colours. This consumable differs from the paper in which it weighs more and its fall is faster. However, they are much more showy.

Effect

The 30-centimeter streamer tubes are the smallest of all, therefore the throw distance is the lowest. However, although it has a power of 2 meters long, we must take into account that the unrolled streamers measure 5, which added to the above makes a total of 7 meters.

Therefore, the 100 rolls will be fired and will create a visual effect whose distance is considerable.

Use

No electrical system is needed for its use. To be able to activate it, we only have to make sure that the plastic lid on the upper part is removed so that the outlet is not obstructed. Then, we will point where we want (it is recommended that it be horizontal or diagonal) and, with a soft turn of the lower part, the streamers will be fired in the desired direction.

As additional precautions: we will never point to ourselves or anyone around us, we will not expose the launcher to extreme heat or possible perforations because it contains gas inside. Finally, we recommend raising your arms as much as possible before shooting.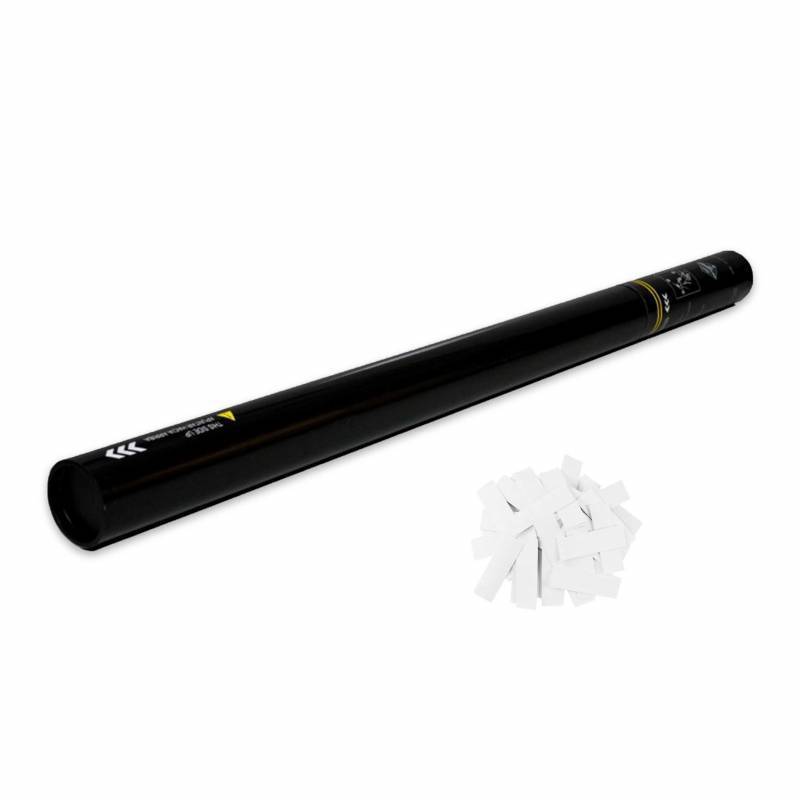 Data sheet
Amperios:

CE

Tipo de serpentinas:

5 m x 0,85 cm

Presión:

1.8 mpa - 18 bars

Unidades pack:

20 tubes

Gas:

Compressed nitrogen

Material:

Flame-retardant and don't stain

Desechable:

Yes

Color:

Range of colours to choose from

Medidas producto:

30 cm x 5 cm diameter