30 cm handheld cannon (Bright streamers)
30 cm handheld cannon with 50 0.85 cm wide by 5 meters long metallic streamers. Manual functioning of the cannon. The color of the streamers can be chosen. 
30 cm handheld cannon charged with 0.85 cm wide by 5 meters long tissue paper streamers. Streamers in different colors available. 
The metallic 
streamers
 shine granting them a beautiful aesthetic effect, which can acquire very potent visual effects on scenarios, sets, etc... 
To acquire the best effect in reduced and medium sized spaces, with a minimum of 7 meters free in the shooting range, the use of "106MSm" cannons is recommended. The streamers are 5 meters long and will be fired two meters more reaching a longitude of 7 meters. 
The shooting of streamers is recommended to be oriented diagonally or horizontally but not vertically. This is because the effect "spider web" produced is more attractive when it is directed towards the public. 
This handheld streamer cannon fires manually. It does not require any separate system to fire it. 
This 30 cm handheld streamer cannon with reference "106MSm" is composed by two separate parts:
The superior part where the streamers will be charged
The inferior part with the compressed air tank which will fire the streamers
Remove the plastic cap or break the tissue paper protection 
used so the streamers do not fall throughout the transport.
Remove the security tape located between both parts. 
Raise your arms as high as possible during firing to ensure using it in the most secure conditions. 
The superior part of the "106MSm" cannon will be held with our left hand while our right hand will hold the inferior part which will allow us to detonate the charge.
The inferior left part has a small piece that allows the activation of the mechanism. Firmly turn this piece with your right hand and the streamers will be launched.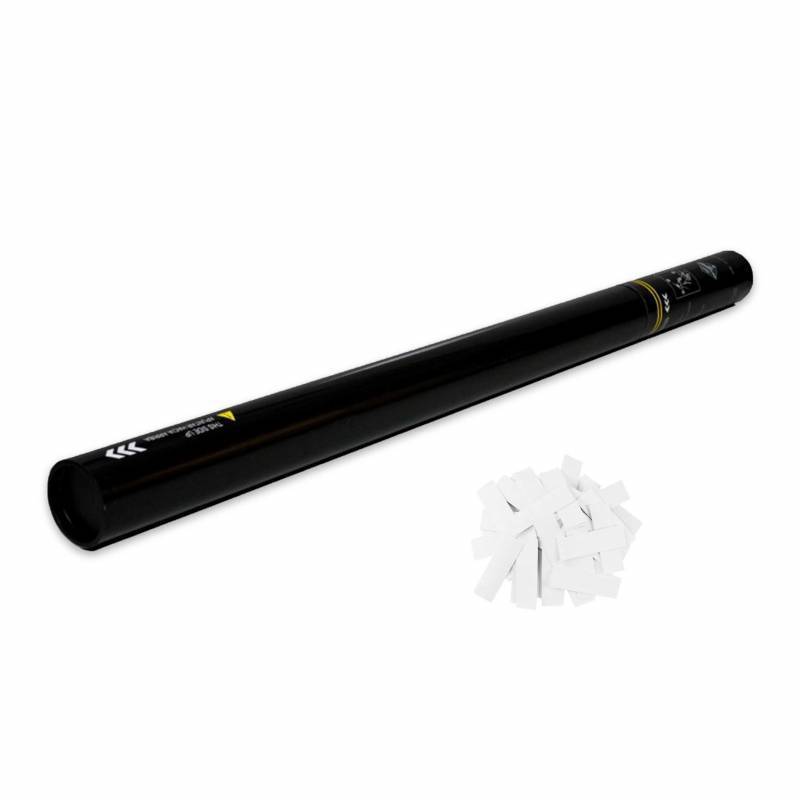 Data sheet
Certificado:

CE (Mandatory for sales and use).

Presión:

1.8 mpa - 18 bars

Peso producto:

0,27 kg.

Tipo de serpentinas:

5 meters long x 0,85 cm wide.

Gas:

Compressed nitrogen.

Material:

Flame-retardant and colorfast.

Desechable:

Yes.

Color:

Multicolor metallic, gold and silver.

Medidas producto:

30 cm long x 5 cm diameter.
Nice
Very powerfull
Nice
Very powerfull