50 cm handheld cannon (Brightness streamers)
50 cm handheld cannon with brightness streamers. You can choose the colour of them and they measure 5 meters by 0.85 centimeters. This launcher is autonomous, so it does not require other systems to function.
Content

Handheld launcher 50 cm. loaded with 0.85 cm brightness finish streamers. wide x 5 meters long to choose between different colours.

The shiny metallized streamers have an aesthetically perfect finish and, thanks to this, we can achieve very powerful visual effects in stages, sets, etc.

Effect

To obtain the best effect, it is recommended to use the "103MSm" cannons in medium or large spaces where we have at least 8/9 meters of free length in the shot. The streamers are 5 meters long and will shoot three more meters, reaching as far as 8/9 meters in length.

It is advisable to orient the launcher diagonally or horizontally, so that the "spider web" that is believed to be much more visual.

Functioning

This type of cannon fires manually. It does not require any separate system to trigger the shot.

The manual launcher of 50 cm. of bright streamers with reference "103MSm" is composed of two different parts:

    - The lower part with the compressed air bottle that will later launch the streamers.
    - The upper part where the streamers are loaded.

We remove the plastic cap or break the protective cover of tissue paper that has so that the streamers do not spill in the transport.

We remove the safety band located between both bodies.

We will raise the arms to the maximum the arms in the shot to use it in totally safe conditions.

With the left hand we will take the upper part of the barrel "103MSm" and with the right hand the lower part that will serve to detonate the load.

The lower left has a small game that serves to activate the mechanism. We turn this part firmly with the right hand and the streamers will come out under pressure.

Finally, we will never aim at any person or face when we are manipulating it and we will not puncture the manual launcher or expose it to sources of heat.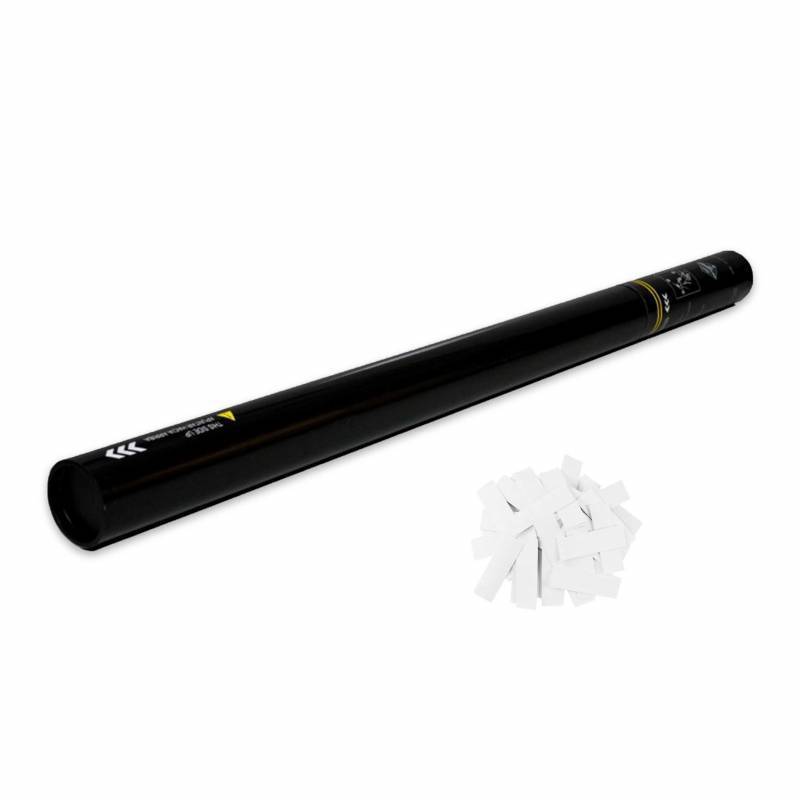 Data sheet
Certificado:

CE (Mandatory for sales and use).

Presión:

1.9 Mpa - 19 bars

Tipo de serpentinas:

0,85 cm. wide x 5 meters long. 100 rolls

Gas:

Compressed nitrogen.

Material:

Flame-retardant and colorfast.


Desechable:

Yes.

Color:

Multicolour metallic, gold and silver.

Medidas producto:

50 cm long x 5 cm diameter.
lo esperado
lo esperado
lo esperado
lo esperado
Estupendo
Entrega rápida y artículos de calidad, tal y como esperaba