25 handheld cannons 50 cm. (Paper streamers)
Pack of 25 50-centimeter handheld cannons with paper streamers 5 meters long and to choose between different colours. They are of autonomous use and do not require additional devices for their use.
Content

Pack of 25 50 cm manual cannons loaded with paper streamers available in different colours, which measure 5 meters long by 0.85 centimeters wide.

Unlike metallic ones, they weigh less and take much longer to fall, persisting more time in the air.

Effect

In order to achieve the best effect, it is recommended to orient the manual launcher horizontally or diagonally, so that the "spider web" effect generated is much more attractive.

On the other hand, we must take into account the length of the streamers that, added to the firing power (3-4 meters) will make a total of 8 or 9 meters away, ideal for medium or large spaces.

Use

The manual cannon 50 cm. of streamers paper with reference "103MS" is composed of two different parts:

    - The upper part where the streamers are loaded.
    - The lower part with the compressed air bottle that will later launch the streamers.

We will remove the plastic or paper stopper from the launcher, which is designed so that the streamers do not spill during transport. Then, we remove the band security seal located between both bodies.

We will raise the arms to the maximum the arms in the shot to use it in totally safe conditions. In addition, we will keep in mind that we will not manipulate the manual cannon pointing to any person or to the face itself.

With the left hand we will take the upper part of the tube "103MS" and with the right hand the lower part that will serve to detonate the load.

The lower left has a small game that serves to activate the mechanism. We turn this part firmly with the right hand and the streamers will shoot out under pressure.

Finally, add that, by containing gas, we will not puncture the launcher or expose it to heat sources.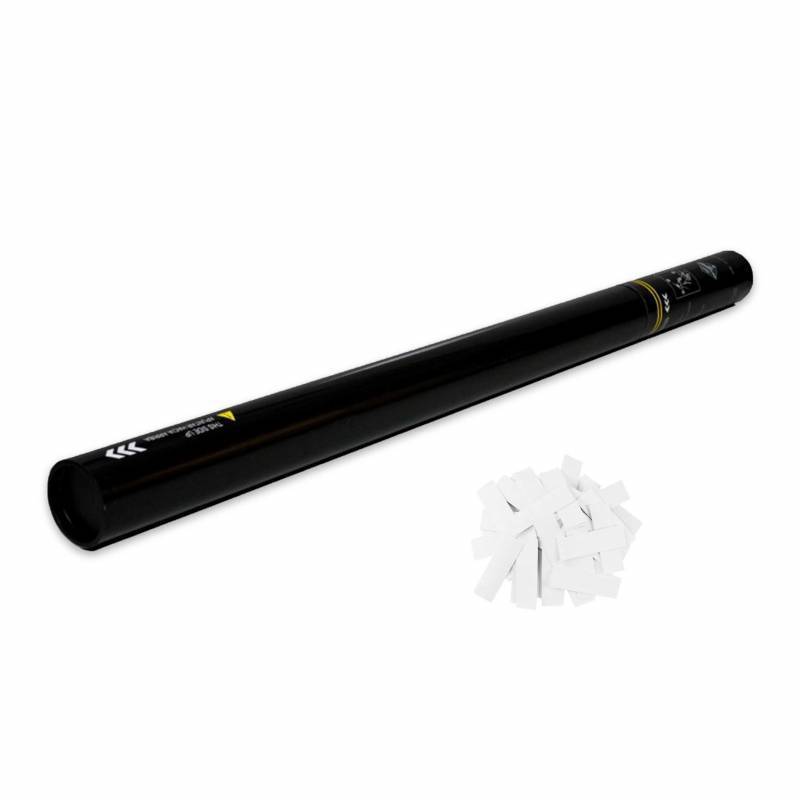 Data sheet
Certificado:

CE (obligatorio para venta y uso).

Presión:

1.9 Mpa - 19 bars

Tipo de serpentinas:

0,85 cm. de ancho x 5 metros de largo. 100 rollos.

Gas:

Compressed nitrogen

Material:

Flame-retardant and don't stain

Desechable:

Yes

Medidas paquete:

50 x 26 x 26 cm.

Color:

A range of colours to choose from

Medidas producto:

50 cm