80 cm handheld cannon (Brightness streamers)
Handheld cannon of 80 centimeters with brightness streamers of 10 meters by 1.5 centimeters in width. You can choose the colour of them. This launcher is for self-use, so it does not require additional devices.
Content

Handheld launcher 80 centimeters long loaded with 10 meter serpentines, metallized with brightness effect, available in different colours to choose from.

Unlike paper, they weigh more and fall faster but their visual effect is precious.

Effect

To be able to use this manual tube of 80 cm in optimal conditions we recommend a total of 14 meters of distance since the serpentines measure 10 meters and, added to the 4 of your shot, make this total.

It is advisable to orient it horizontally or diagonally, so that the "spider web" effect is much more attractive.

Functioning

This type of confetti cannon is fired manually. It does not require any system to part to trigger the shot.

The 80 cm handheld launcher. It is composed of two different parts:

   -  The upper part where the streamers are loaded.
   -  The lower part with the compressed air bottle that will later launch the streamers

We remove the plastic cap or break the protective cover of tissue paper that has so that the streamers do not spill in the transport.

We remove the safety band located between both bodies.

We will raise the arms to the maximum in the shot to use it in totally safe conditions.

With the left hand we will take the upper part of the "101MSm" cannon and with the right hand the lower part that will serve to detonate the load.

The lower left has a small game that serves to activate the mechanism. We turn this part firmly with the right hand and the streamers will shoot out under pressure.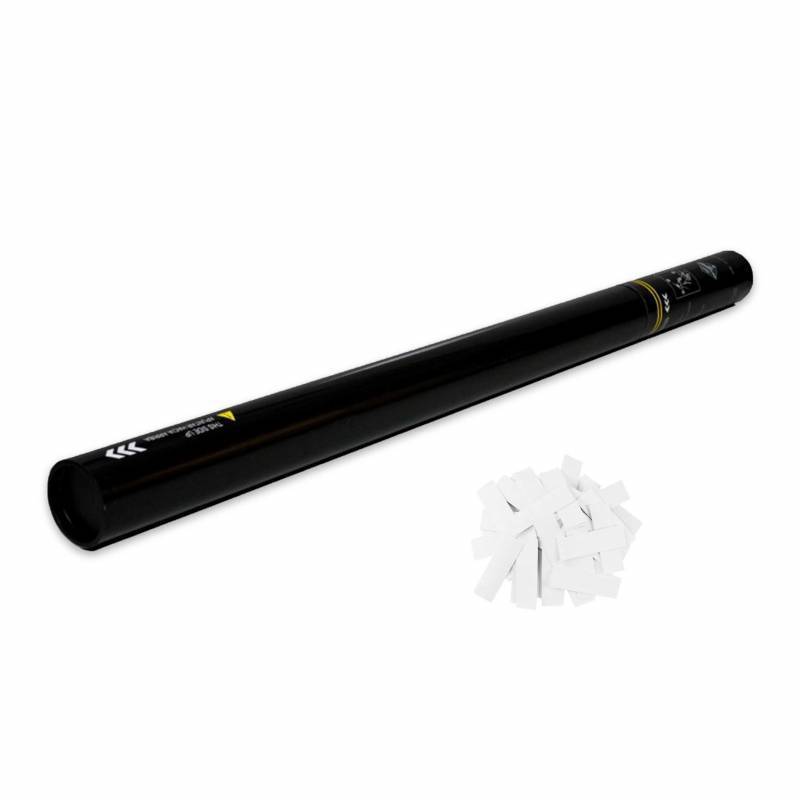 Data sheet
Certificado:

CE (Mandatory for sales and use).

Tipo de serpentinas:

1,5 cm. wide x 10 meters long.

Presión:

2.0 mpa - 20 bars

Peso producto:

0,5 kg.

Gas:

Compressed nitrogen.

Material:

Flame-retardant and colorfast.

Desechable:

Yes.

Color:

Multicolor metallized, gold and silver.

Medidas producto:

80 cm long x 5 cm diameter.
ESPECTACULAR
HAN SIDO UNA PASADA