20 Handheld cannons 80 cm. (Brightness streamers)
Pack of 20 handheld cannons of 80 centimeters with brightness streamers. Ideal for multiple launchments since, in addition, they are autonomous and do not require additional systems. You can choose the colour of the streamers.
Content

Pack of 20 manual cannons of 80 centimeters with brightness streamers, which can be chosen in different colours and differ with respect to the paper in which they weigh more and fall faster but its effect is much more visual.

Effect

Regarding to the orientation of the launcher, it is better to be horizontal or diagonal, so that the "spider web" effect is better. Also, we must bear in mind that the total distance that must be in the shot must be about 14 meters (10 for the streamers and 4 for launch power).

Functioning

This 80-centimeter manual tube is for self-use, so it does not require additional electrical devices for its use.

The metalized streamer launcher with reference "101MSm" is composed of two different parts:

    - The lower part with the compressed air bottle that will later launch the streamers.
    - The upper part where the streamers are loaded.

We remove the plastic cap or break the protective cover of tissue paper that has so that the streamers do not spill in the transport. We remove the safety band located between both bodies.

With the left hand we will take the upper part of the "101MSm" cannon and with the right hand the lower part that will serve to detonate the load.

The lower left has a small game that serves to activate the mechanism. We turn this part firmly with the right hand and the streamers will shoot out under pressure.

To use it safely, we recommend raising your arms as much as possible.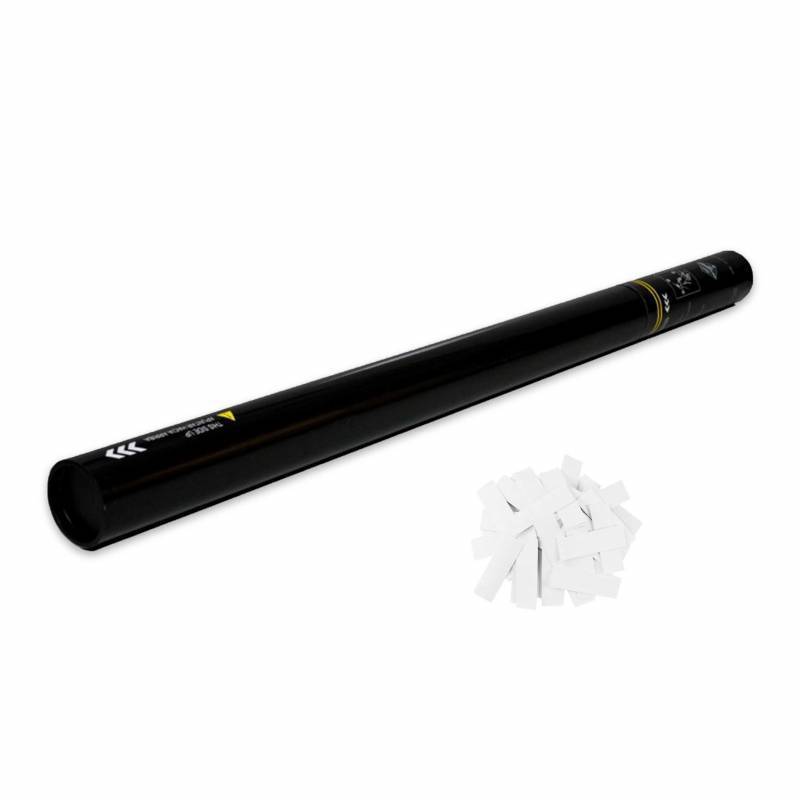 Data sheet
Certificado:

CE

Presión:

2.0 mpa - 20 bars

Peso producto:

0,5 kg.

Tipo de serpentinas:

1,5 cm x 10 m

Gas:

Compressed nitrogen

Unidades pack:

20 cannons

Peso caja:

11,55 kg.

Material:

Don't stain and flame-retardant

Medidas caja

80 x 26 x 21 cm.

Desechable:

Yes

Color:

A range of colours to choose from

Medidas producto:

80 cm