Handheld Cannon Petals Confetti 50 cm
The 50 cm handheld tube with confetti petals is a great complement to make an outstanding visual effect in medium environments. Explore all the options on colours and sizes and choose the one or those that best suit your next event!
Characteristics:

This model of manual cannon measures 50 centimeters in length and contains 120 grams of confetti of petals, which is flame-retardant and does not stain. Among The colours to choose are red, pink, multicolor, white, gold and silver and the measures are 4.1 cm or 5.5 in diameter, depending on the design.

The firing power is about 6/7 meters, factor to take into account when planning its use and, therefore, is indicated for outdoor environments or some closed whose roof is that minimum height.

Likewise, the consumable can be paper or metallized and the two differences between both are the weight and the visual impact. The first one will fall more slowly but is not as prominent, while the second one will offer a better effect but in a shorter period of time.

Recommendations for use:

To be able to use the 50 cm manual launcher with petal confetti we simply have to make a soft turn of the bottom part. However, before activating it, we must follow the following safety tips: do not point at anyone, remove the plastic cover, raise the arms as much as possible, do not support the tube in our own body (to avoid damage by recoil), orient it vertically or diagonally, do not pierce it and do not expose it to strong heat.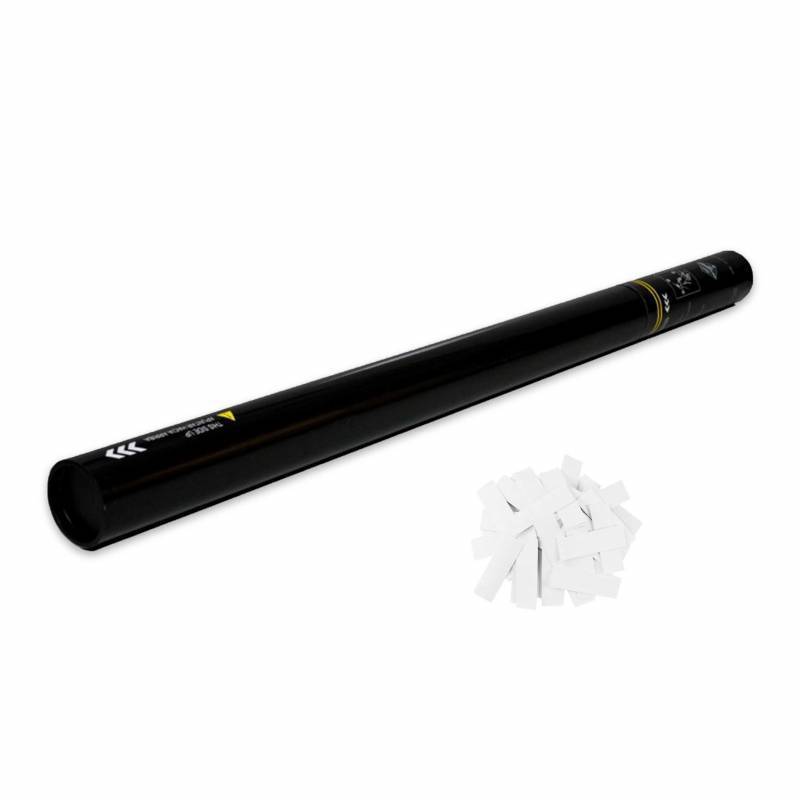 Data sheet
Certificado:

CE

Forma:

Petals

Presión:

1.9 mpa - 19 bars

Gas:

Compressed nitrogen

Material:

Tissue paper or brightness

Desechable:

Yes

Color:

Gold, silver, multicolour, white, red and pink

Medidas producto:

50 cm tube