25 Handheld cannons 50 cm. (Confetti)
Pack of 25 handheld cannons of 50 cm. with rectangular paper and / or metallic confetti of 2 cm. wide x 5 cm. long with the possibility of choosing the colour of it. The launcher is of autonomous use and does not require other systems to function.
Content

Pack of 25 50 cm handheld launchers. loaded with paper and / or metallic 2 cm confetti. wide x 5 cm. long. We have confetti in different colours.

The confetti in paper finish has a slower fall if compared to the drop of metallized confetti, since the paper weighs less. In contrast, this one has an aesthetically precious brightness finish.

Effect

To be able to use the handheld confetti cannons, it is recommended to orient them vertically, so that the content rises more and takes more time to fall or, also, diagonally to make participants participate.

In addition, we must bear in mind that these launchers reach about 6/7 meters, so it is recommended to use them in medium or large spaces.

Functioning

This launcher does not need any additional system to operate since it is of autonomous use.

The handheld cannon 50 cm. of confetti with reference "103MC" is composed of two different parts:

    - The lower part with the compressed air bottle that will later release the confetti.
    - The upper part where the confetti is loaded.

To use it, we must remove the plastic cap or break the lid of paper that is included so that the content does not spill in its transport.

Then, we remove the security seal located between both bodies.

We will raise the arms as much as possible so that the firing of the handheld confetti cannon is carried out in safe conditions.

With the left hand we will take the upper part of the barrel "103MC" and with the right hand the lower part that will serve to detonate the load.

The lower left has a small game that serves to activate the mechanism. We turn this part firmly with the right hand and the confetti will shoot out under pressure.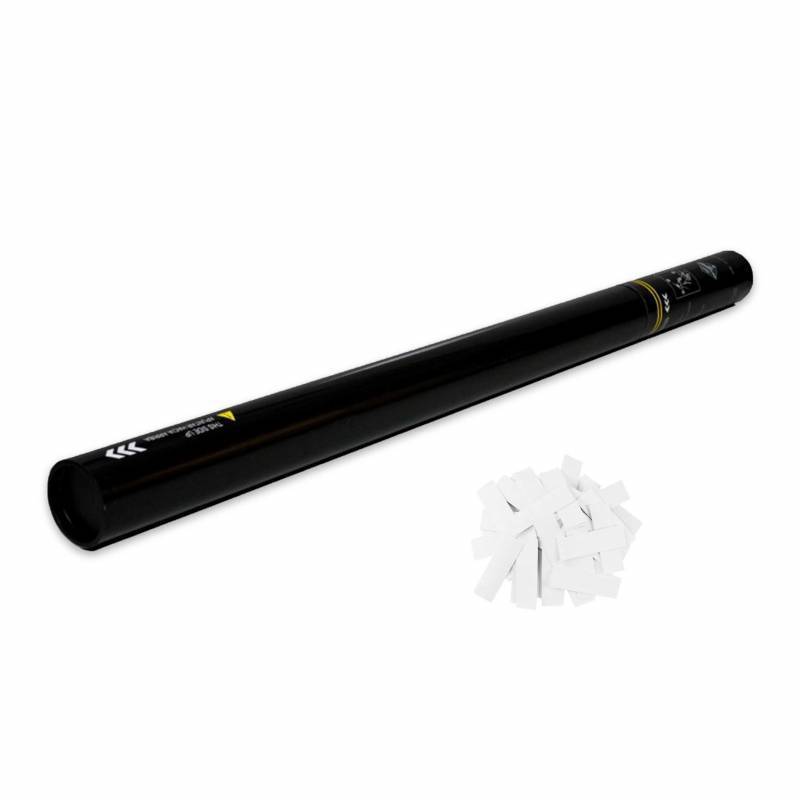 Data sheet
Certificado:

CE (Mandatory for sales and use).

Forma:

Rectangular of 2 x 5 cm.

Peso producto:

0,41 kg.

Presión:

1.9 mpa - 19 bars

Peso caja:

10,88 kg.

Gas:

Compressed nitrogen

Unidades pack:

25 handheld cannons.

Medidas caja

50 x 26 x 26 cm.

Desechable:

Yes.

Color:

All colours available.

Medidas producto:

50 cm long x 5 cm diameter.
Cañón.
He probado los cañones de 80 cm. y sin problema al disparar; aun no he probado los de 50cm.
CAÑONES CONFETI
Estupendo, el producto de la calidad esperada a buen precio. La entrega muy rápida.
ok
tudo ok, nada a assinalar.