Manual Butterflies Confetti Cannon 80 cm
The confetti cannon of butterflies, manual model of 80 centimeters is the most suitable complement for your next event. With it, a lot of these insects can fly making a simple gesture, creating an incredible environment where you make the launch.
Characteristics:

The butterfly confetti cannon is the perfect alternative to create a very colorful effect in any event. Being manual and 80 centimeters long is easy, convenient and practical to use and, in addition, with a considerable amount of this consumable (200 grams), which will allow it to be used in environments where there is, at least, between 8 and 9 meters from the floor to the ceiling.

The butterfly confetti is flame-retardant and does not fade and is available in various sizes (4.1 centimeters and 5.5) as well as multicolour, white, gold or silver. It should be noted that, depending on the colour, we will be choosing paper or brightness, being the first lighter and the second more eye-catching.

Recommendations for use:

This tube of butterfly confetti, being manual, is autonomous, so we only need to make a soft turn of the bottom to make the launch. However, before this we must take into account the following considerations: never point any person with him or expose him to extreme heat or make holes in the cannon because it contains gas inside. At the moment of shooting, remove the top cover, raise the arms as much as possible and do not support the launcher in our body to avoid the adverse effects of recoil.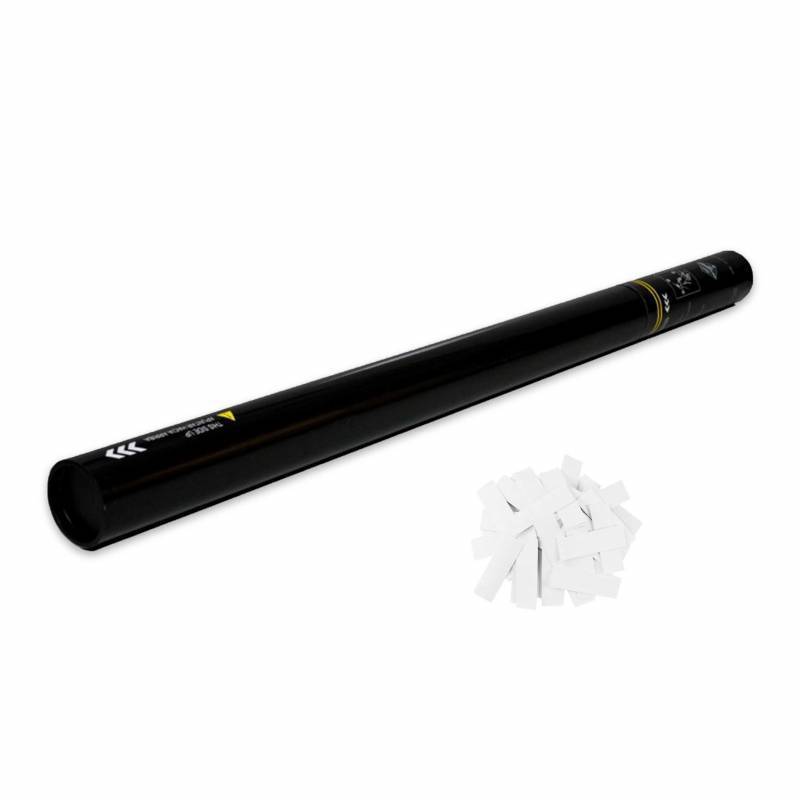 Data sheet
Certificado:

CE

Forma:

Butterflies

Presión:

2.0 mpa - 20 bars

Gas:

Compressed nitrogen

Material:

Tissue paper o brightness

Desechable:

Yes

Color:

Multicolour, white, gold, silver

Medidas producto:

80 cm tube