Manual Cannon 50 cm (confetti + streamers)
Why choose between one consumable or another when you can opt for a 50 cm manual cannon of confetti and streamers? With this launcher you will increase the possibilities on your visual effects by choosing two different types and, in addition, being able to choose between a wide range of colours.
Effect
Normally, when we choose visual effects we opt for closed options and, even with the possibility of customizing the color, design or shape, we do not make combinations. For this reason, the 50 cm long manual confetti and streamer cannon is the ideal alternative to mix both consumables and, thus, increase the possibilities on the results.
This manual tube will be loaded with a mixture of confetti and streamers, which you will choose in the upper part of the product sheet and, thanks to the combination possibilities, you can choose the one that best fits the theme of the event or occasion in the which one do you want to use it Therefore, both will be fired at the same time and will fill the whole environment with the best of both.
Remember: you can have a monocolour cannon and, for that, you should pick out the same colour in the two dropouts or, on the other hand, incorporate different ones and the visual impact will be varied.
Content
It includes a cannon of confetti and streamers, manual, 50 centimeters long, the first being 2 x 5 cm (rectangular) and the second ones of 0.85 cm x 5 meters, eligible in different colours.
Use
As it happens with the rest of manual launchers, to be able to count on this visual effect you will only have to turn slightly the lower part to make the shot. As additional recommendations, we will never point at anyone, we will not pierce the tube or expose it to sources of heat and we will always raise our arms as much as possible. Before making the purchase, it is advisable to take into account that the power is of a distance of about 5-6 meters, 9-10 if we consider that the streamers must be unrolled, so you have to make sure that the consumables will not bounce against the ceiling (in case of being in a closed space).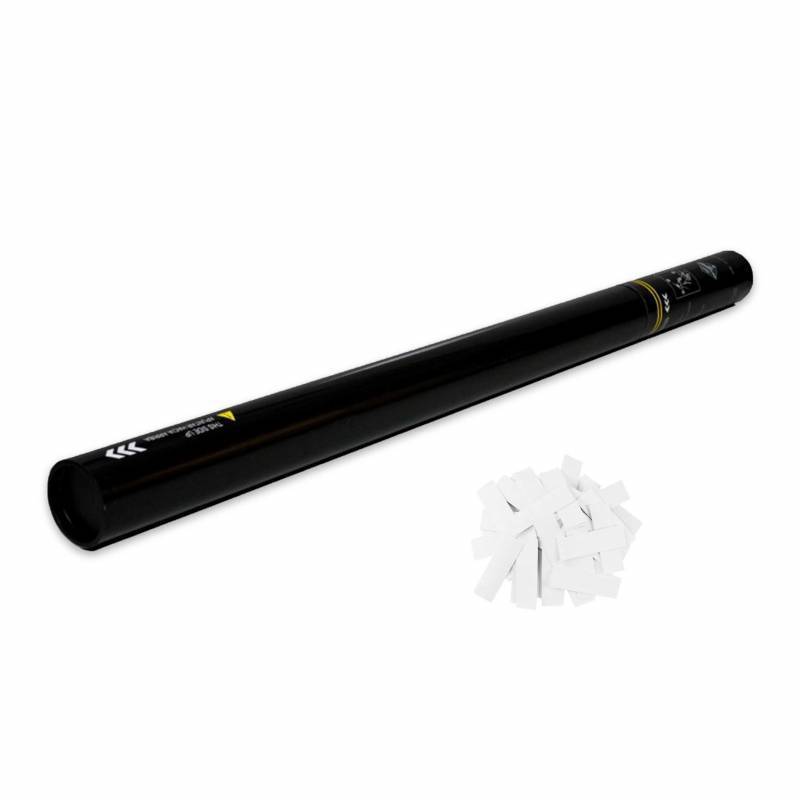 Data sheet
Certificado:

CE

Presión:

1.9 mpa - 19 bars

Tipo de serpentinas:

Streamers 5 m long

Gas:

Compressed nitrogen

Tipo de confeti:

Rectangular 2 x 5 cm

Material:

Paper

Desechable:

Sí

Color:

Make your own combinations!

Medidas producto:

50 cm long
super bien
para repetir .
super bien
lo recibí en tiempo record creía que no llegaría porque tuve un problema en la forma de pago por mi parte, pero se soluciono y llegó a tiempo en 24 h. efecto super bonito con los dos colores. repetiremos seguro.
buen producto
se nota que el material es bueno, efecto logrado. Es cierto que es más caro que cualquier otro tubo estandar pero merece la pena.