20 Handheld cannons 80 cm. (Paper streamers)
Pack of 20 handheld streamers cannon 80 cm.
With 1.5 cm paper streamers. wide x 10 meters long. It is operated manually by turning the bottom of the tube.
Content

Pack of 20 handheld cannons of 80 centimeters with paper streamers, to choose between different colours. It is ideal for multiple launches and does not require electric machines for its use.

This type of material weighs much less and, therefore, its flight lasts longer in the air.

Effect

To get the best effect it is recommended to use the "101MS" tubes in large spaces in size where we have at least 14/15 meters of free length in the shot. The streamers are 10 meters long and will shoot 4 meters more, reaching as far as 14 meters in length.

It is advisable to orient the launcher horizontally or diagonally since, in this way, the "spider web" effect looks much more on the flight.

Functioning

This type of confetti cannon is fired manually. It does not require any separate system to trigger the shot.

The 80 cm streamers launcher with reference "101MS" is composed of two different parts:

    - The lower part with the compressed air bottle that will later launch the streamers
    - The upper part where the streamers are loaded.

We remove the protective plastic or paper cover that is enabled so that the streamers do not spill.

We will raise the arms to the maximum the arms in the shot to use it in totally safe conditions.

With the left hand we will take the upper part of the gun "101MS" and with the right hand the lower part that will serve to detonate the load.

The lower left has a small game that serves to activate the mechanism. We turn this part firmly with the right hand and the streamers will shoot out under pressure.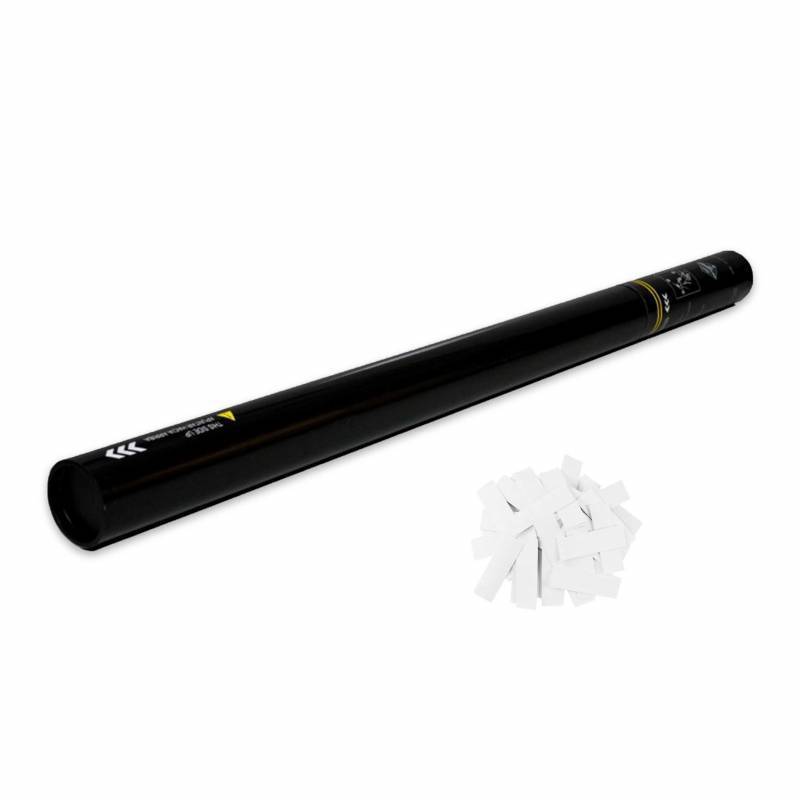 Data sheet
Pressure

Streamers type

Gas

Pack units

Material

Disposable

Product size